Success in the conference game can be a challenge. The demands are getting higher and the budgets seem to be getting smaller.
The worst thing about having an amazing event is that the client will want a better one next year! One of the secrets to conference success is having someone who can hold everything together while adding extra value.
Warwick Merry is an accomplished business person, exhibitor, performer, host and facilitator. His clients call him "Australia's best MC".
Part of his continued success in the conference business is his authentic and engaging approach. As host, speaker, facilitator, MC, working with you to help plan the event or some combination of all of these, Warwick's total focus is on your success.
His experience working the breadth of Australia and around the globe in industries such as: IT, Financial, Manufacturing, Pharmaceutical, Entertainment, HR and Telecommunications means that you have experience on your side. Whether you are planning a gala dinner, a five day international reward and recognition trip or something in between, Warwick can add experience, value and success to your event.
How Do You Get People To Take Action?
Warwick's experience is that one of the biggest challenges that marketers, sales people and managers face is how to get other people to take action. To address this, Warwick wrote a short report on What Makes A Good Call To Action. If you want to get a copy of this report, simply sign up to his Weekly Motivator and it's yours as a gift.
Need More Inspiration?
Warwick's has written the book on Inspiration.
It is a new release for 2015 and it has been specifically designed NOT to be read but to be used to take action and achieve results. Loaded with ideas, actions and quirky observations, this book will keep you amused, challenged, but most of all inspired to achieve.
Click on the cover to find out more about it.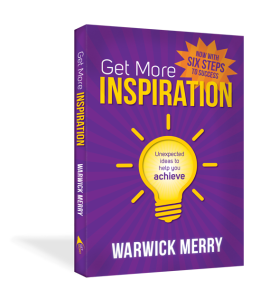 WHAT OTHER PEOPLE ARE SAYING
[blockquote type="blockquote_quotes" align="left" css_animation="appear" width="400"]Warwick, I want to thank you for the fantastic job you did as MC for our Breakfast Club event.
In particular I appreciated the way you kept me informed prior to the event and your early arrival.
As the organiser it gave me one less thing to worry about!
Your ice breaker was perfect. It was a load of fun and directly linked to our brand in a way I could have never imagined.
It was so easy to deal with you and you really contributed to the success of the event.
Warwick I highly recommend your MC services and look forward to using you again in the near future.
Warm regards
Dana Grgas
Manager, Development and Research
Australia Human Resources Institute[/blockquote]
[blockquote type="blockquote_quotes" align="center" css_animation="appear" width="400"]Warwick
I just wanted to say thank you for the amazing job you did yesterday as the MC for TEDxMelbourne.
It was always going to be a challenging day with our decision to stream vision from the USA. It was particularly challenging in that their feed was not as reliable as we would have liked. Your ability to get back on stage at the right time and fill in with relevant and thought provoking questions and facts was fantastic. The fact that you held and even enlivened the crowd during this difficult moment did not go unnoticed.
Our AV team were so impressed with how you dealt with the situation as well as the rest of the audience.
Your flexibility on and off stage just made the day so much easier for us as event organiser. I look forward to working with you again and highly recommend your MC services to others.
Warm regards
Jon Yeo
TEDxMelbourne Licensee[/blockquote]