2 Big Mistakes Speakers Make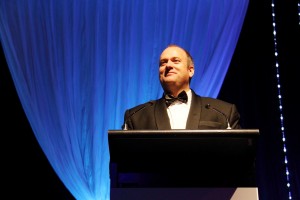 Unknown to most people, I had my Performance Coach come and witness me perform as the Master of Ceremonies during Day 2 of a recent convention. She gave me some great feedback.
AND
She also made the comment that there were 2 big mistakes that most speakers made on stage. Including some of the more experienced speakers. I was talking about these mistakes with a meet up of a LinkedIn group this morning and thought that they may be of value to others who perform on stage. So here they are:
1) Speakers were not able to receive the acknowledgement from the crowd.
After a speaker spoke, the crowd got excited, applauded, whistled, threw items of clothing (ok so maybe not the last one) and the speaker gave a simple wave and walked off stage. It is the same as someone saying "Wow I like that outfit" and getting the reply "This old thing? I got it for $2 at the opshop".
At the end of your presentation when people are applauding, stand there and receive it. Give a big bow or wave to acknowledge it but take the time to receive the accolades being given to you.
2) Most speakers used only 1/3 of the stage.
There was a huge stage there. USE IT! Ok so it can be fun to step off the stage, but it is also harder to see you. Way better to use the entire stage to better engage with your audience. I get for MCs we can be stuck at the lectern. Personally, I request a lapel microphone so I can stay away from the lectern. It helps me engage better and "play" with the audience.
So what do you think?
Do you agree with these concepts?
How will you change your next presentation?