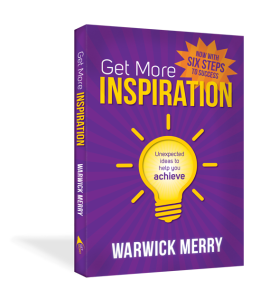 Are you blocked as you work for your goals and dreams?
Do you spend too much time going around in circles?
Would you benefit from a regular burst of inspiration to keep you on track?
This book is just what you need.
Loaded with quirky observations and simple truths, it will have a massive impact on business and on life. It is the resource you will turn to time and again to move you forward when you want and need to. Global speaker, Master MC and Consultant, Warwick Merry shares exactly what you need to achieve success.

Now most people get excited about a book, start to read it and then put it back on the shelf because they got distracted. This book is something different.
WE DO NOT EXPECT YOU TO READ THIS BOOK!
Well, we do but we don't. While you can read this book from beginning to end, it's real value is as a "flicker." It is designed so that whenever you need a burst of inspiration all you have to do is flick to a page, see what it says and then take some kind of action.
This book is all about action. It is all about helping you achieve more and you need to take action to do this. It is the reason that the book has check lists, action steps and text boxes through out. These are there so you can go one step beyond pondering your situation and really do something about it. When dealing with my clients, so many of them tell me that they have books, CDs and other resources that they have never used.
It is time for a change. It is time for you to have a resource that supports our new multi-focussed, multi-challenged, multi-tasking lifestyle.
This is where Get More Inspiration delivers! 
We have had to reprinted this book several times and have sold over a thousand copies. It is also available in all good book stores but you won't be able to get this special Author's Only Deal  with industry leading guarantee anywhere but here.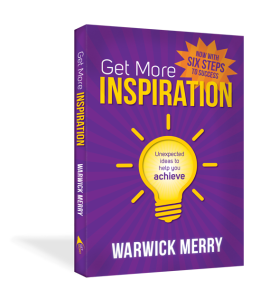 What you get in the Author's Only Get More Inspiration Deal:
Get More Inspiration – Unexpected ideas to help you achieve. Over 260 pages packed full of ideas (over 200 of them) and inspiration to help you reach your goals. This includes the Six Steps to Success to ensure you get maximum value out of the book and all of your other resources.
Get More Goer – A weekly motivational observation. Every Monday (except when he forgets and then it's a Tuesday) you will receive a newsletter with a simply lesson or observation on life. It is small enough to read in your preview pane so it won't clog your inbox and it won't be loaded with sales messages. It will have something to help you Get More from your work and your life in a very easy way.
Get More in 90 Days – Your short cut to success. This three month e-course keeps you focussed on what you want to achieve. It supports you as you work towards your short term goal and helps you eliminate the distractions that help you achieve. Loaded with easy to implement ideas and straight forward strategies, your achievements will inspire you to take further action. This course usually sells for $297 but is yours free in the Author's Only Deal. 
Your only cost is $34.95 for over $300 worth of value.
So order now!

The 200% Guarantee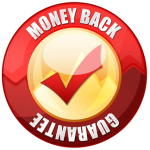 "But what if it's rubbish?"
A fair question. Sooner or later we all buy a dud product off the internet. But we guarantee that this isn't one of them!
We are so confident that you will get huge value out of this book that when you buy it and use it for six months, if you have not received the purchase price worth of value or you simply don't think it was worth the money, we will give you a 100% refund of your purchase price.
But we are so confident that you will enjoy it that we extend our guarantee an extra 100%. That is, after we have given you the money you can keep the book and all it's bonuses. You can't ask for a better deal than that!