Lessons for the Lazy Traveller
June 23, 2011

Created By:

Categories:
As some of you may know, I am off to the USA for some work.
With all of the recent ash cloud sagas, my first concern was getting off the ground!  In fact, after a long wait, my 6am flight got cancelled.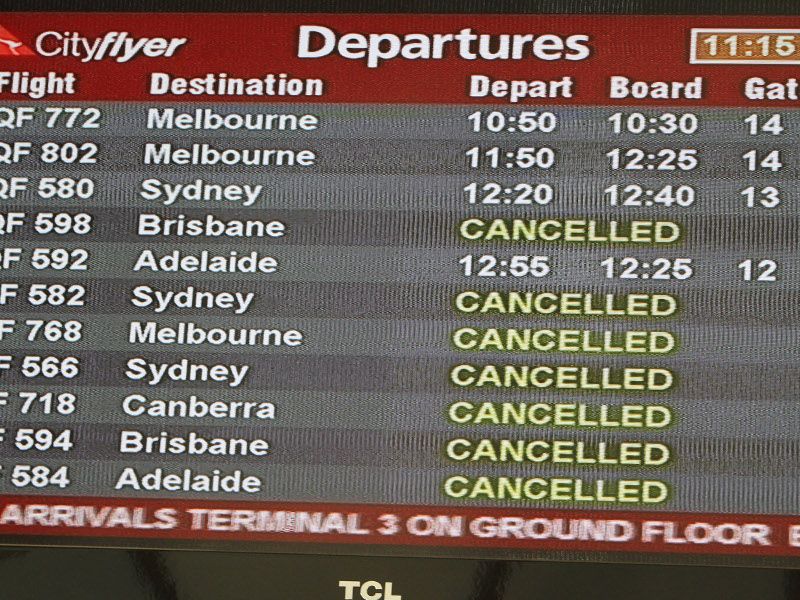 I thought I would be on hold for ages and it would just be one long nightmare trying to get away. Ah the delights of Qantas!! I was on hold for about 3 minutes.  After a few more minutes on hold, the delightful reservations person had me on the direct flight leaving at 9am (rather than the one that goes via New Zealand at 6am) and had shuffled my connecting flight so I was only delayed by about 2 hrs.
YAY!!!
I was so excited.  No rude getting to the airport at 3am – I could be there at 6am!  No 3 hr stop over in Auckland, simple straight line flight to LAX.  It was almost too good to be true!! 
And then I got to the airport!!
I was so excited to go, and I am only a boy so I don't need much stuff, that I was able to pack everything I needed for the 12 days into my carry on bag. The plan is to do some shopping to get more cloths and so on and buy a new suitcase to bring it home.  How slick was I!!  The Lazy Traveller!  No waiting around for luggage for this little black duck!!
If only I could have chosen the security guard!!
Check in was a breeze.  Then went I went into the customs area, a security guard said he had to weigh my bag.  At 13kg it was too heavy and I had to go back to check in.  My little balloon of re-scheduled happiness burst and I plummeted to travelling hassle reality!!
I got back in the check in queue, which had grown dramatically.  The security guard has said, they may issue it with a sticker and I would be fine. The Qantas checkin person had no idea what I was talking about. She presented me with a sturdy plastic bag and said I had to spread the weight and check one bag in.
All my books and non-essentials (clothes) went in that bag. This left my laptop, Tim Tam's and essentials in the carry on.  Then back into the check-in queue for a third time.  There was a delay because some Dr kind of person from Medecins Sans Frontieres had a medical box with dry ice and they had to be sure about it.  By then I was thinking, "Damn their good work, just get out of my way!"
I asked every so sweetly, jovially and manipulatively if I could have two carry on bags (now that one was 4kg and the other 7.8kg). The check-in person politely said "No".  So now I have luggage to wait for.  In a flimsy plastic bag!!  I am expecting when I get to LAX for there to be a stream of jock's, socks jeans and books come streaming around on the luggage carousel!
To make it worse, when I went through customs the second time, the different security guard had no interest in weighing my bag!!  Arrrggh!!  If only I got him first. If only you could choose your own security guard!
A bit of healthy perspective though. I am now sitting in the Qantas lounge, checking email, writing my blog and planning my direct flight to LAX and then Portland.  It seems that my problems are high quality problems.
Such is the life of a lazy traveller!!