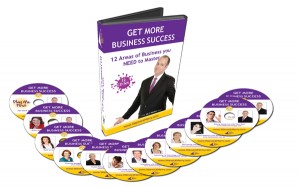 The Get More Business Success 12 CD Pack is chocked full of easy to implement ideas that add dollars to your bottom line. Covers the area that you NEED to master in your business.
Think about it. When most people start a new business, they take their highly honed technical skills and maybe one or two customers that they have managed to sign up and decided to kick off their own business. Typically they don't have much business training, financial skills, marketing knowledge or personal presentation training.
To help you Get More success in your business, faster and easier, Warwick has created this 12 disc reference library. He interviews ten different experts to get you the foundation knowledge as well as share some of the great tips he has learnt over the years running his own business and working with many others.
You get the following subject matter discussed in full:
Simple tips to make sure you get the most value from this CD Pack and every minute in your day.
What are your customers worth? What do they FEEL they are worth? Find out how to build and maintain million dollar relationships
Get clarity on social media and how you can use it to build an Army of Advocated in 90 days – no matter how big your business is.
Set your business up to succeed with the right financial structure and learn what your business is trying to tell you from its financial statements.
People management can be one of the most difficult parts of running your business. Get some insight and discover how to do it better.
What do your clients think when they see you and your business? Step into your personal image and grow your brand from good to GREAT.
Get some simple techniques and strategies to make innovation a permanent part of your business and your competitive edge.
Discover how you can effectively use technology to attract clients into your business for low or no cost.
How to network effectively and generate new business including questioning techniques and follow up strategies that work.
Learn easy to implement techniques and strategies to get free media exposure for your business on Radio, TV and in print.
Don't lose sight on why you are in business. A hands on approach to building a Bucket List for you, your business and your family.
What do you do when your get up and go has got up and gone? Keep motivated, energised and focussed on achieving your goals.
Each CD has straight forward, easy to implement ideas guaranteed to make you more successful.
That's right, this CD pack has a 100% money back guarantee. If you listen to all 12 CD's, apply their knowledge and take action in your business, Warwick GUARANTEE's that within 12 months you will make enough money in your business to cover the cost of the cost of the CD's. If you don't simply contact Warwick and he will walk you through  the easy refund process.
Order the Get More Business Success pack now! Your business will love you for it.