It's Christmas time. Yay!
For those of you who celebrate Christmas, I trust you will enjoy the delights that Christmas offers. For those who don't celebrate Christmas, I wish you all the best for whatever you do celebrate (whether it be Festivus, Chanukka, Kwanzaa or some other festival).
For everyone, I trust that your have gained great things from 2013 and that 2014 will bring you fantastic opportunity, moments of awesomeness and time to connect to those who count.
My gift for you is the recipe for Rum Balls. They have always been a family favourite. A friend of mine posted pics of her rum balls on Facebook and I thought I should make some too. She sent me the recipe and then Wifey made some (naturally I was responsible for the taste test)
Here is the result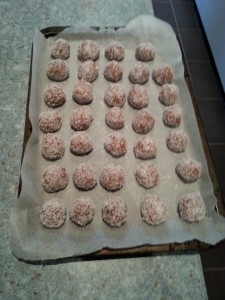 They are super easy to make and taste like celebration.
Enjoy!!
Rum Balls
from Sally Coffey-Battersby
Preparation time: 20 Mins
Skill Level: Easy
Ingredients
1packet of Arrowroot or Marie biscuits pulverised to dust
½ cup desiccated coconut,
Extra coconut for topping
3tbs cocoa,
1tin sweetened condensed milk,
3-6 tbs of rum (depending on strength required!!)
Method
Smash biscuits in blender or chopper
Add dry ingredients
Mix well
Add Condensed Milk and Rum
Mix up til it's sticky, but not too wet
Add more coconut if it's too wet
Use hands to roll into bite sized balls
Coat in coconut and then refrigerate
NOTE
Can be frozen
Alternate alcohol can be used for a different flavour
Rum essence can be used for non-alcoholic version
Can add sultanas or other dried fruit for variety
Can roll in sprinkles or Hundreds and Thousands for variety