Do You Deserve Good Service?
June 8, 2015

Created By:

Categories: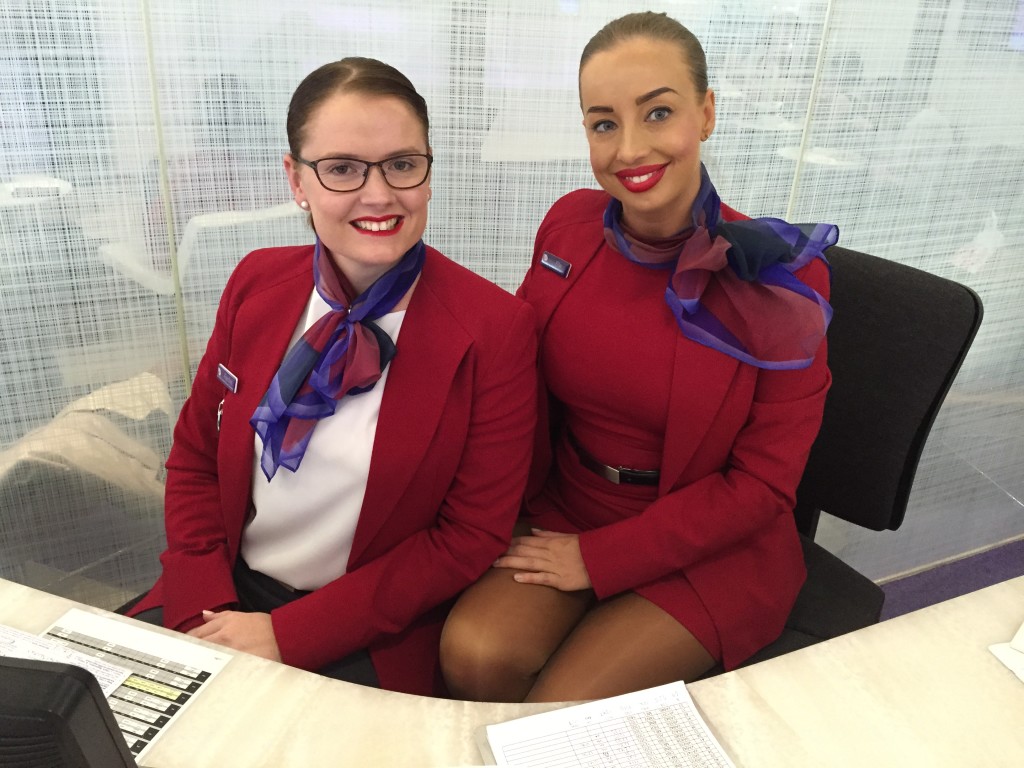 This is Rachael and Erin at the Virgin Australia lounge in Sydney.
As a person who travels quite a bit, I have earned access to the lounge. This week as I was travelling home from Sydney to Melbourne, I asked whether it was possible to get an earlier flight. They were able to get me the flight two hours earlier which was fabulous for me. Naturally when I asked, I was pleasant, cracked a few silly jokes and was even a bit playful. I figure they have a busy job, at the very least I could be nice.
They said to me, "If only all of our customers were like you." I asked what did the "other" customers do and I was amazed at their response.
Some customers demand (demand, not ask for) an earlier flight and when they are allocated a middle seat they refuse to take it and get huffy.

Others in this situation tell (again, tell not ask) them to move someone else out of an aisle seat so they can have it

Some customers will demand an upgrade to business class because they are Gold, Platinum, tired – whatever excuse they think will get one

Some customers grab a couple of mints out of courtesy bowl without even making eye contact (ok so that's not too bad)

Then they told me on several occasions that customers will walk past and empty the entire content of the mint bowl into their bag (and the bowl is pretty big)
While flying I have also experienced some pretty atrocious behaviour in how flight attendants are treated by fellow passengers as well. By no means is this poor behaviour confined to the airline industry. Most of us have stories of very poor behaviours from people who are looking for customer service.
Do you deserve good customer service?
Personally, I do not believe the customer is always right, but they are always the customer, but do you really think you are helping your situation by being rude and obnoxious? In many situations the person giving service is paid a fairly low amount, is fairly young (so may not have developed some of the resilience to deal with highly emotional situations) and deals with issues all day long.
So here are some guidelines on how to get far better customer service by acting in a way that deserves it:
Smile – it makes a huge difference
Be pleasant – sometimes you won't get your way and it is not completely (or sometimes even partially) due to the person you are dealing with and that is no reason to not be pleasant.
Express dissatisfaction with a situation not with a person – once you make it a personal attack it becomes much harder to get a mutually satisfying situation and it is frequently some time later by huge regret at what you said.
Know there are more customers than just you – really, taking ALL THE MINTS is not considerate of others, it is the same with demanding all the attention of the customer service person when your situation will not progress and there are others to serve.
Have a healthy perspective. Is it REALLY that important? If I didn't get an earlier flight, I would still get home just two hours later. Really, would that be worth flipping out over?
Ask for more but be ok if you don't get it – I will frequently ask for an upgrade whether I am flying or renting a car. Often I get a better car, sometimes I get an exit row, twice I have been bumped up to Business Class or Premium. I usually ask in a friendly, joking kind of way. But I feel for the person behind the counter when people "demand" an upgrade because "Don't you know who I am?" Intimidation is not a good strategy for service.
Have fun. Customer service people are human too. Typically their job is repetitive, a little dull and they tune out. If you use their name (no doubt they have a name badge), have some fun with them then it makes everyone feel better and you never know how they may look after you.
Smile – I know I mentioned it to start with but it is too important not to mention again. So many people forget to do this. They get so swept up in their own importance, their own problems and their own thoughts that they forget to smile. If you do nothing else, smile and I am certain it will make a difference.
If you can do these things you will be far more deserving of good customer service and you are more likely to receive it. It is not rocket science. In many cases it is simple courtesy and expressing your humanity. But it is forgotten far too often.
So do YOU deserve good customer service?